Astro (UB40) est subitement décédé
|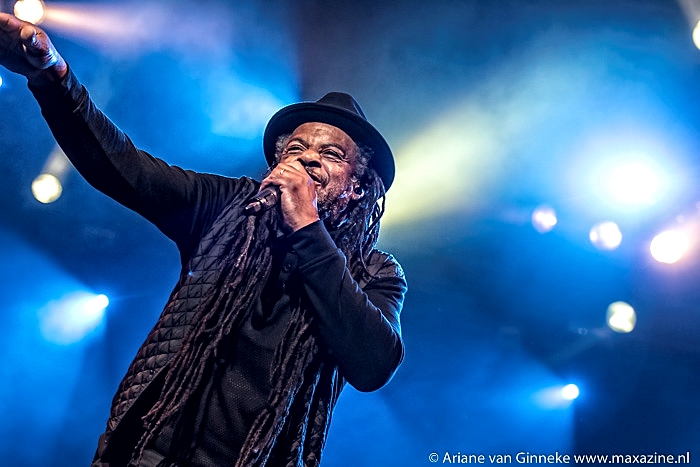 Tard samedi soir, il a été annoncé que l'ancien toaster Astro (UB40) est décédé après une courte maladie. Terence Wilson, le nom officiel d'Astro, est né à Birmingham le 24 juin 1957 et a débuté à l'UB40 en tant que roadie et annonceur pour le groupe. Quand il a été autorisé à trinquer régulièrement, le groupe l'a tellement aimé qu'à la fin des années 1970, il est devenu le deuxième chanteur, à côté d'Ali Campbell.
Le toast, avec lequel Astro a fait fureur, est une forme de rap, dans laquelle un rythme est prononcé sur un ton monotone. Les paroles peuvent être improvisées ou pré-écrites. Astro a fait des toasts qui étaient déjà inclus dans les chansons et joués pendant les concerts. En plus de trinquer, Astro prenait aussi régulièrement la trompette ou les percussions.
Sur ses morceaux les plus célèbres du groupe britannique de reggae, se trouvent les toasts de "Red Red Wine" et le hit numéro un "Rat In Mi Kitchen". Il quitte UB40 en 2013, pour aller loin avec Ali Campbell et Mickey Virtue, qui ont déjà quitté le groupe. Ensemble, ils ont joué le rôle de l'UB40 non officiel, avec Ali Campbell et Astro.
«We are absolutely devastated and completely heartbroken to have to tell you that our beloved Astro has today passed away after a very short illness. The world will never be the same without him. We ask you to please respect his family's privacy at this incredibly difficult time.»

UB40
Samedi soir, le groupe a annoncé que le grille-pain était décédé des suites d'une courte maladie. Astro vient d'avoir 64 ans.